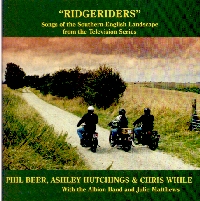 Recorded at Tone Deaf Studios, Preston, and at
Central Studios, Southport in 1999.
"Close Your Eyes" recorded at Courtyard Studios, 1995.
Engineered by Ken Nicol
except for tracks 1,3,10 and 12.
engineered and mixed by Julie Matthews.
Executive Producer. Ashley Hutchings
Mastered by Andy Seward
Photography. Jeff Wright
Chris, Phil and Ashley would like to thank Nick Knowles, Mike Fuller,
Peter Hayton, Jeff Wright and Barbara James, together with all the
members of the Ridgeriders production team, for their
enthusiasm and support
Ridgeriders In Concert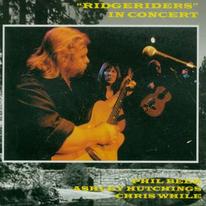 Talking Elephant release recorded during the January 2001 tour. Featuring Phil Beer, Ashley Hutchings & Chris While. This seventeen track CD features eleven tracks that were not on the original album.
| | |
| --- | --- |
| | Shapes On The Landscape |
| | Row Of Pines |
| | The Cursus At Bignor |
| | Mossing We'll Go |
| | Tan Hill Fair |
| | All-seeing Stour |
| | What Celia Sees |
| | Rosa |
| | I Am A Humble Bridge |
| | Close Your Eyes |
| | Robbers Road |
| | Michael Moreys Hump |
| | To Be A Pilgrim |
| | Along The Pilgrims Way |
| | Up The Crooked Spire/ General Ward |
| | Ill Omens |
| | High And Wild Places |